Personalised Doormat - Synthetic Weatherproof Coir for Outdoor or Indoor Use
£18.95 GBP

£18.95 GBP

Save £2.55 GBP
FREE UK SHIPPING
---
---
A beautifully designed doormat, suitable for indoor and outdoor use. As the personalisation is permanently engraved it won't wear away with rain.

Add that personal touch to your new home, or present this to someone as a house warming gift. Surname can be customised to your preference.

There are two design options:
1) Traditional: Capital letter at the beginning of the surname. 
2) Elegant: Surname all in lower case, beginning and ending with swirls.

Please refer to the last photo for more examples of our two styles.
These quality door mats are manufactured from a synthetic coir.

Available in three sizes:

Standard: 60cm x 40cm x 1.7cm
Large: 70cm x 50cm x 1.7cm
Extra Large: 80cm x 50cm x 1.7cm 
Corners have soft rounding.
---
We Also Recommend
---
Customer Reviews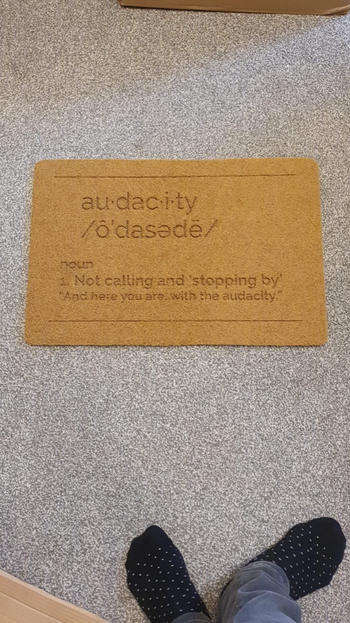 05/21/2021
Bespoke door mat
Superb experience and communication to arrange a bespoke design. The engraving doesn't result in the dark shade as on images. If aware of that I would recommend.
Claire S.

United Kingdom
08/04/2021
Fab, fab service - couldn't be happier!
I'd ordered some mats from elsewhere that came and were awful, I was so disappointed - what a change it was dealing with CraftWalla! I got responses to my questions immediately, they were able to offer exactly what I wanted in terms of bespoke mats to suit awkward spaces, and the quality, finish and craftsmanship was brilliant. Highly recommended! Thank you xx
Kim W.

United Kingdom
12/08/2020
Great housewarming gift
Fast delivery and my friends loved it for their new house!
Eilidh C.

United Kingdom